The Trusted Expert in Historic Jackson Heights

My name is Daniel Karatzas, and I am an Associate Broker at Beaudoin Realty Group, in Jackson Heights, New York.   Although I specialize in residential properties within our landmarked Historic District, I have listed and sold apartments and houses throughout all of Jackson Heights and its surrounding communities. In 2021 I closed on 19 properties worth $12.4 million, and listed 18 properties with asking prices totaling $10.9 million.  And to find out what buyers and sellers have to say, you can see my over 122 "Five-Star" reviews on Zillow:  http://www.zillow.com/profile/daniel-karatzas/#reviews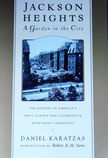 I was born, raised and continue to reside in Jackson Heights.  And as the owner of a cooperative apartment and former President of my building, I have a deep understanding of how tenant-owned buildings operate.  You may already know of me because you have seen or read my book, Jackson Heights – A Garden in the City, which chronicles the history of Jackson Heights and its unique contribution to urban planning history.  I am, admittedly, the acknowledged expert on the community, with a deep knowledge of the private homes and apartment buildings that comprise Jackson Heights.  I have given many walking tours of Jackson Heights and lectured extensively on the community – for the Municipal Arts Society, Cooper Hewitt Museum, Historic Districts Council, New York Public Library, Queens Historical Society, and Queensboro Public Library.  Since it was published in 1990, over 6,000 copies of my book have been sold, with 100% of the proceeds going to the Jackson Heights Beautification Group.
I am a firm believer in being civically involved in my community. I am a board member and former president of the Jackson Heights Beautification Group.  Since 1991 I have organized the JHBG's popular "Historic Jackson Heights Weekend."  Over the last 25 years, thousands of residents and visitors have attended the exhibit of original photographs and ephemera, along with the Garden Tour and Walking Tour.
Prior to my real estate career I worked for major corporations and on Wall Street.  Earlier, I earned degrees in engineering and business from Columbia University.  I am also a Chartered Financial Analyst.  Since joining Beaudoin Realty Group in 2004, I have established a solid track record in residential sales. 
With the purchase or sale of a home likely to be the largest financial transaction you ever make, let me put my real estate and financial experience to work for you.  If you are interested in purchasing or selling a private home or cooperative or condominium apartment in Jackson Heights, I can serve your needs in a highly professional, ethical and confidential manner.   
You can find out more about my background in Education, and what clients and customers have had to say about the service I provide in Testimonials.